11th FIRST Conference on Computer Security Incident Handling and Response

Brisbane, Australia
13 - 18 June 1999

This conference is sponsored by First.Org, Inc.
The Forum of Incident Response and Security Teams (FIRST), is an international organization that brings together a variety of computer security incident response teams. These teams include government, commercial, and academic organizations.
World-wide, FIRST aims to foster cooperation and coordination in incident prevention, to prompt rapid reaction to incidents, and to promote information sharing among members and the global community at large.
Further information about the FIRST organization is available at the FIRST WWW server, https://www.first.org/.
The annual FIRST Conference is the only event of its kind. It focuses on the field of computer security incident handling and response. The conference is international in scope and attendance, with presentations on the latest in incident response and prevention, vulnerability analysis, and computer security, given by recognised experts in the field of computer security. Additionally, these events serve as the foundation for the improvement of computer security world-wide via the sharing of goals, ideas, and information.
Honouring the international origin of its members, and in recognition of the global spread of computer networks and the common problems faced by computer owners, the FIRST's conference is held in different parts of the world. Past conferences have been located in U.S. (Pittsburgh, Pleasanton, Hearndon, Denver, St. Louis, Boston, and Santa Clara), Germany (Karlsruhe), England (Bristol) and Mexico (Monterrey).
The 1999 conference will continue to promote FIRST organization goals of worldwide coordination and cooperation, and for the very first time in its history it will be in the Southern Hemisphere. It will take place in Brisbane, Australia.
You can view Conference Information and the Registration Form from here. A plain text version of the Registration Form (suitable for e-mailing) is also available.
Benfits for joining FIRST and attending its events can be found here.
This event will provide a prime opportunity for those in the operating system, computer security and networking, and telecommunications industries to gain focussed access to a highly influential group of computer security incident response experts around the world.

Detailed information about a wide range of sponsorship opportunities for organisations is available from:

https://www.first.org/conference/1999/sponsor.html
Members and non-members of FIRST who are working in the field of computer security incident handling. This includes, but it is not restricted to, incident response teams, law enforcement, consultants, contractors, and vendors.

Any person with an interest in computer security who is willing to meet other security professionals in the area of incident response, to improve his/her security program with the ideas presented, to save time searching for tools and resources, and to join in the sharing of a wide range experience and knowledge.

Any person chartered with the setup of a new incident response team will gain insight on the activities performed by established incident response teams.

Members of incident response teams who are looking forward to joining FIRST will have the opportunity to meet the FIRST community.
The 11th Annual FIRST conference will be held in Brisbane, Australia. Capital city of the state of Queensland, Brisbane is located on the east coast of Australia and has a population of more than two million people.

Brisbane is a modern, dynamic city known as Australia's City of Sun Days. Brisbane is Australia's largest city in the subtropics, enjoying an enviable climate of hot, bright summers and mild warm winters that makes anytime of year a good time to visit. In Winter, during June and July, the average daily temperatures vary from 10-23 degrees Celsius (50-73 degrees Fahrenheit).

Brisbane is a city dotted with parks lying beneath clear blue skies making it a refreshing change from most capital cities.
The flavours of the subtropics offer a tantalising invitation for food lovers. With a climate that is ideal for alfresco dining it is little wonder that one of the favorite ways of celebrating our place in the sun is dining in one of the city's myriad of cafes, brasseries, restaurants, bistros and trattorias. The local catch of tiger prawns, reef fish, Moreton Bay Bugs and mud crabs is temptation enough for seafood lovers. Add to that fine meats, fresh produces, tropical fruits and the unique flavours of Australian Bush Tucker and you have all the ingredients for great dining.
While Brisbane is a serious center for business by day, by night it comes alive with entertainment for all tastes. The Queensland Performing Arts Complex at the Cultural Centre in Brisbane's South Bank stages a rich selection of the best in performing arts from major theater productions to blockbuster musicals, classic operas and ballets to solo performances by internationally known actors, comedians and entertainers.
Conrad Treasury Casino in the historic Treasury Building offers two floors of 24 hour gaming excitement with a wealth of ways to flirt with fortune. The Casino's four restaurants and seven bars make the perfect venue for celebrations.
Live music can be enjoyed in clubs bars around the city. Concerts of Australian and international touring artists are staged at major venues for you can dance through the night at discos in city club precincts around Eagle Street, Caxton Street and Fortitude Valley.
Brisbane's city centre is compact and easy to get around making it ideal for shopping. The city's shopping district centres around Queen Street Mall and most visitors gravitate towards this colorful and vivacious city hub. With more than 500 boutiques and major department stores to explore, there is no shortage of choice. Original Queensland handcrafted goods and bargains can also be found at the weekend craft markets.
| | |
| --- | --- |
| Brisbane's outdoor lifestyle means visitors can enjoy all the activities of the subtropics, from watersports to adventure pursuits, sightseeing and visiting Brisbane's host of attractions including museums, art galleries, and native wildlife sanctuaries and theme parks to name a few. Brisbane's Moreton Bay with its sailing, game fishing, island tours, dolphin feeding and whale watching is the ideal way to relax. Or head for the golden beaches of the Gold Coast to the south and the Sunshine Coast to the north. | |
| | |
| --- | --- |
| | Brisbane offers the added attraction of being in the center of Australia's favorite holiday region. You are in easy reach of Australia's famous beaches, unique Outback areas, the Great Barrier Reef, tropical islands and rainforests. |
| | |
| --- | --- |
| More travel and visitor information about Brisbane, Queensland and Australia is available from: | |
The University of Queensland, Brisbane, Australia and AusCERT are the local organizers of the 1999 conference.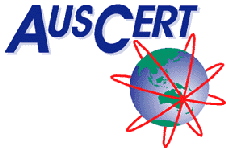 Further information can be obtained from the Conference Secretariat at On-Line Events.

and

The photographs on this page are courtesy of the Queensland Tourism and Travel Corporation and The Prentice Centre (The University of Queensland).

Last modified: 8 March 1999

Copyright © 1999 by FIRST.ORG , Inc. / Contact: first-sec@first.org