A dynamic international city, Greater Miami is a rare hybrid--a sophisticated urban resort with world-class business amenities that doubles as a laidback tropical paradise.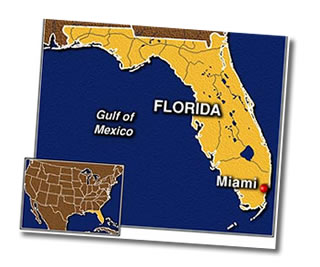 Conventioneers reap the benefits when they choose to meet in a town where combining business with pleasure is as effortless as convening a conference on a waterfront terrace kissed by glorious sunshine and soft breezes.
Boasting a centrally located international airport, temperatures that average 75°F year round, state-of-the-art meeting facilities and close to 50,000 hotel rooms, Miami has evolved into a meeting destination for all seasons. Factor in the lure of the world-famous Art Deco District, white sand beaches, sparkling Biscayne Bay and renowned dining and entertainment and it is easy to see why many of the world's most prestigious associations and corporate meetings, conventions and trade shows choose to meet in Miami. Each year, more than 880,000 delegates converge on Miami, contributing close to $1 billion to the local economy.
Downtown Miami pulsates with activity as commercial, cultural and leisure pursuits come together. Innovative Downtown Miami skyscrapers compete for your attention, while historic shopping arcades and storefronts packed with merchandise evoke Miami's origins as a trading town. Downtown Miami department stores and emporiums offer big city shopping with a cosmopolitan flair, while Downtown Miami's diversity inspires dining delights in a variety of culinary styles.
Located at the mouth of the Miami River on the lower east coast of Florida, Miami is bordered on the east by Biscayne Bay, an arm of the Atlantic Ocean. Further east, the islands of Key Biscayne and Miami Beach shelter the bay from the Atlantic Ocean, thus providing Miami with a naturally protected harbor. Once pine and palmetto flatlands, the Miami area boasts sandy beaches in its coastal areas and gives way to sparsely wooded outlying areas. A man-made canal connects the city to Lake Okeechobee, located 90 miles northwest of Miami.
Just imagine dolphins doing backflips and jumping sea lions! Is that a parrot on a bicycle? Yes, and he's just one of many jaw dropping sights in a sea of wonders that make up our attractions landscape. You can go from outer space to the bottom of the ocean in one day, or travel from the prehistoric era to the Middle Ages, the Renaissance & back to the future in a week.
Greater Miami has miles and miles of beaches beckoning sun seekers, and nearby parks luring nature lovers to discover a fascinating variety of flora and fauna. In fact, Miami is the only place in the U.S. with two national parks. Everglades National Park is an untamed ecosystem unlike any other on earth, while Biscayne National Park is the only living tropical reef within the continental U.S.
Everglades National Park
Covering 1.5 million acres, Everglades National Park is the third largest in the U.S. National Parks system. Made up of sawgrass prairies, mangrove swamps, subtropical jungle and the warm waters of Florida Bay, the park and its seemingly endless grassy waters are home to a rare community of plants and endangered animals.


Biscayne National Park
A rarity among national parks, Biscayne National Park is primarily aquatic. Of its 173,000 acres, 95 percent are under water. Teeming with sea life and plants, the park encompasses the turquoise waters of Biscayne Bay, the longest stretch of mangrove forest left on Florida's east coast, living coral reefs and 40 of the northernmost Florida Keys. Getting out on the water is the key to discovering the wonders of Biscayne National Park. At the Dante Fascell Visitor Center, it is possible to join glass bottom boat tours, snorkeling and dive trips and island excursions, as well as to rent canoes and kayaks. Fishing is excellent, with snapper, snook and barracuda among the most common catch.
Excitement, surprise and magical memories for young and old. At Miami, Florida attractions they can do and see everything from the latest IMAX films to the high-tech games at entertainment venues. They can even experience the thrill of speed at the Richard Petty Driving Experience on scheduled dates at the Homestead-Miami Speedway.