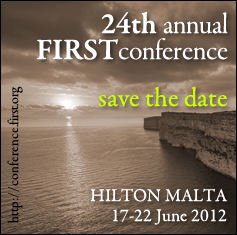 Monday, 18 June 2012
Francisco García Morán
Director General, Directorate General Informatics (DIGIT), European Commission
"IT Security @ EC: Challenges & Experiences"
Wednesday, 20 June 2012
Suleyman Anil
Head, Cyber Defence/Emerging Security Challenges Division, NATO
"Defending Cyberspace—Global Challenges Require Global Response"
Friday, 22 June 2012
Lance Spitzner
Director, SANS Securing the Human Program, SANS Institute
"Saving the World of Security—The Past, Present and Future"


Call for Speakers Open: 7 October 2011
Submission Deadline: 16 December 2011
Notification of Acceptance: 3 February 2012
Want to be added to our mailing list? Send us an email at first-2012@first.org.

Do you have specific questions?
first-2012@first.org.
Direct line to conference office:
+1 312 646 1013
Direct mailing address to conference office:
FIRST Conference Office c/o CAPS, LLC
219 W. Chicago Avenue, Suite 300
Chicago, Illinois 60654