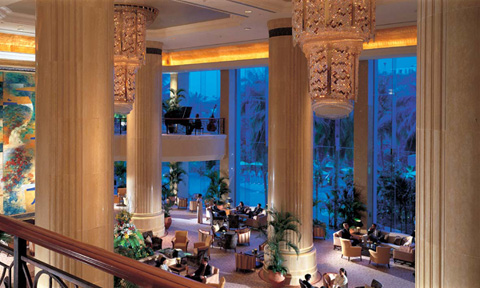 The 1st Annual Corporate Executive Programme (CEP) will be held at the Shangri-La Hotel .
The historical and world famous Shangri-La Hotel in Singapore will provide a private and exclusive atmosphere in which Global and Asia Pacific corporate executives can discuss boardroom issues. Attendees will be housed in the Valley Wing, famous for accommodating Heads of State and Dignitaries and offers the best of luxury and opulence.
A block of rooms is being held for CEP attendees at a discount rate. FIRST will cover the cost of lodging for 2 nights as part of CEP registration fee, corresponding to the official meeting dates. However, if you will be staying longer than 2 nights, additional lodging will be at your own expense.
For receiving this special offer, you must make your reservation prior to May 26, 2005 and mention that you are attending the Corporate Executive Programme. Thereafter, all rooms will be subject to guest room and rate availability.
To make your reservation, please:


Send the completed form directly to the hotel

Airport transfers are included in the registration fee for those participating in the Corporate Executive Programme.
For requesting airport transfers from/to the Shangri-la Hotel, please fill in the
Airport Transfer Request Form

[66 Kb]
/

[95 Kb]
, and e-mail it to Mrs. Allison Law,
allison8@singnet.com.sg
(prior to June, 20th).