Welcome Letter
A Day at the Races
Ian Cook, FIRST Conference Program Chair and Assuria's Chairman, and FIRST Conference sponsor, Terry Pudwell were at Silverstone for the GT90's Revival race.
Terry, who in his first race came second, was driving the Assuria sponsored Stealth B6 which prominently displayed the FIRST 2007 Conference Logo.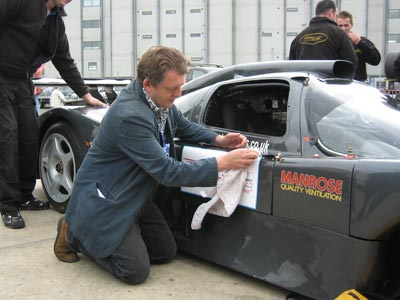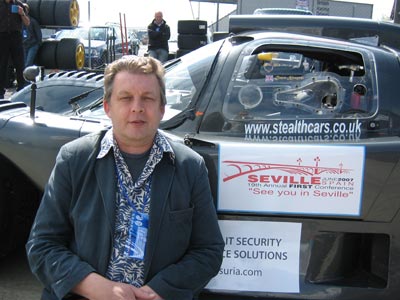 PHOTO GALLERY
more photographs from Silverstone GT90s Sports Car meeting


Arjen de Landgraaf, FIRST Conference Program Chair, prefers fast bikes...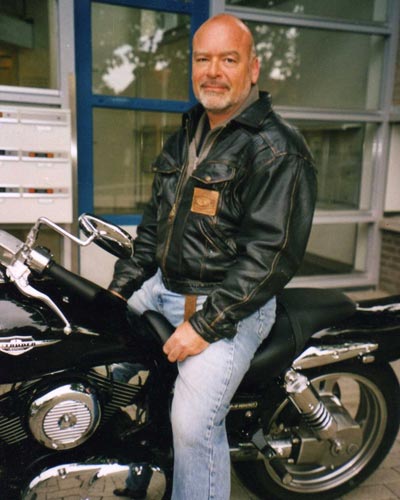 Dear Colleagues,
A conference bringing together the world's top Internet security people. Eighty-five internationally renowned and acclaimed speakers. First class training. Preview innovative security tools. And the chance to spend a few days in one of Spain's most beautiful cities.
We think this makes up a combination which is both professionally and personally irresistible, which is why we're confident you'll accept this invitation to join us at the 19th FIRST Conference from June 17-22 in Seville.
And don't think that you can't attend because you're not currently a FIRST Member — non members are welcome.
Here's what the distinguished commentator David Lacey wrote recently in Computer Weekly:
"Of all the security clubs and associations, the one that impresses me most is FIRST https://www.first.org/, the Forum for Incident Response and Security Teams. Why? Because it's focused, born out of real business requirements. …. FIRST is not a club that exists to make an income for its organizers. It's an international community that serves a real purpose: helping Government, Industry and Academia to respond quickly and effectively to new security threats. So I have no hesitation in recommending that you book a space in your busy diary to attend their Annual Conference."
As you know, new threats to privacy are emerging every day, and at the same time, tensions are rising between governments who want to harvest and store data about individual citizens and use it to oversee and steer behaviour, and corporates who collect data from and about citizens who are also customers. Already, brands which have been exposed by the media for "shopping" customers or "blocking" behaviour have suffered serious blows to their reputations.
That's why our theme this year is Private Lives and Corporate Risk: Digital Privacy – Hazards and responsibilities, and our program has been designed fully to support you in your professional quest to effectively meet and counter the new challenges that confront us every day in the dynamic field of IT-Security and Risk Management.
A new format approach, with up to six concurrent streams, now includes GeekZones (two hours of technical, highly interactive activity for up to 50 people), Beer 'n' Gear meetings previewing the latest technology, and Special Interest Group (SIG) meetings forging new communities where groups with divergent backgrounds can meet to strengthen their understanding of shared problems and goals.
In another new initiative we will be producing and streaming out Daily Global Security News PodCasts — presenting the day's key security news, highlights from the Conference and interviews with Conference delegates.
It's a conference that's simply not to be missed. Every incident response and security team or security professional who has responsibility for coordinating how an organization tackles the hazards and responds to the challenges of digital security needs to be there.
Make this investment in your professional development — join us in Seville, Spain, in June. We look forward to seeing you there!
Sincerely,
2007 FIRST Annual Conference Joint Program Chairs