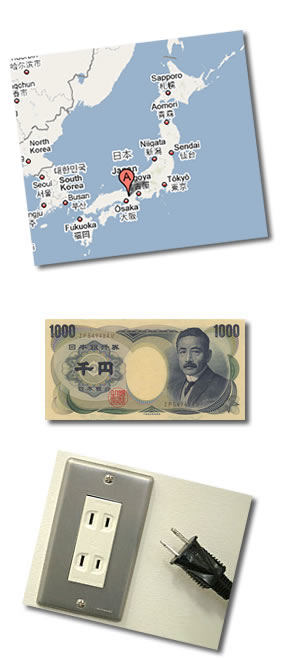 Geography
Kyoto is city located on the island of Honshu, Japan. It is part of the Osaka-Kobe-Kyoto metropolitan area with a population close to 1.5 million and is Japan's 7th largest city.
Climate
The Japanese summer begins in June. Summer highs are 24C / 75F and summer lows are 13C / 56. For more on the seasons and the current weather, please see the Weather in Kyoto Today.
Currency
The currency in Japan is the yen (JPY), and banknotes and coins are easily identifiable. There are JPY 1, JPY 5, JPY 10, JPY 50, JPY 100 and JPY 500 coins, and JPY 1000, JPY 5000 and JPY 10,000 banknotes. The JPY 1 coin is of lightweight aluminum, and the JPY 5 (known to bring good luck) and JPY 50 coins have a hole in the middle. For the latest exchange rate, please use a currency converter such as: http://www.xe.com
Getting Money: ATMs & Exchange
International service ATMs are available throughout Japan:
7-Eleven Convenience Stores
Citibank ATMs, available 24/7
Post Offices:

Major Post Offices: Mon-Fri.: 07:00-23:00; Sat.& Sun.: 09:00-19:00;
Smaller Post Offices: Mon.-F ri.: 09:00-19:00; Sat.: 09:00-1700

Kyoto's two biggest post offices are located at:

Downtown, on Sanjo east of Karasuma
Northwest corner of JR Kyoto Station
Click here for a map of all ATMs located near the conference hotel.
Foreign Exchange
Kyoto Handicraft Center:

Change money, cash or travelers checks, even on weekends; open daily 10:00-18:00

Sumitomo Mitsui Bank Money Exchange Corner:

Open: 11:00-18:30; closed Sat., Sun., holidays; 1F Hankyu Department Store
Electricity
Japan uses on 100 volts power. This is different from most of the world and means that you will need an adapter for sensitive equipment like computers if you are coming from the US or Europe. The currents in western Japan, including Kyoto, are 60HZ.
Japan does not use three-pronged plugs, so it may be necessary for you to buy an adapter to use Japan's two pronged outlets.
International Calling Cards & Cell Phone Rental
Vending machines set up near phone, train station kiosks and many convenience stores sell phone cards for domestic calls (that can also be used for international calls at grey phones). One unit of a card corresponds to 10 yen. If you use coins, for local calls insert 10 yen coins. For domestic long distance calls, prepare many 10 yen coins or use 100 yen coins. Note : No change can be returned if you insert a 100 yen coin and only partly use it. For cell phone rental contact: http://www.rentafone-japan.com.
North American, South American, and European phones will not work in Japan.
Useful Links
For additional information on Kyoto please visit the links below: