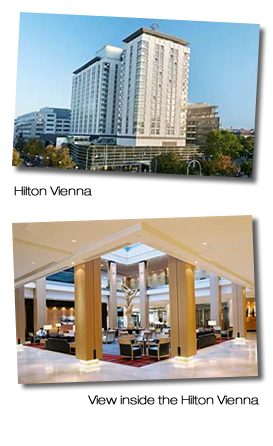 The 23rd Annual FIRST Conference will be held at the Hilton Vienna, Austria, 12-17 June 2011.
Home to Vienna's premier conference center, the Hilton Vienna is set in the heart of Vienna and is just 16 minutes by direct train from the airport. The hotel is located next to the famous Stadtpark and is within walking distance to many famous tourist destinations.
A block of rooms at the Hilton Vienna is being held for conference attendees at a discount rate of € 169 including breakfast (€ 189/double room). Pre and post nights can be reserved at the group rate based on availability.
To receive the discount rate, you must make your reservation prior to 1 June 2011 and mention that you are attending the FIRST Computer Security Conference. Reservation requests received after 1 May 2011 will be accepted upon space and rate availability basis. All reservations must be made using the direct hotel link.
Please make your reservations online here!

For more information on the Hilton Vienna, please call +43 (0) 1 717000 or visit the Hilton Vienna Website.
Hilton Vienna Hotel
Am Stadtpark 1
Vienna, Austria
A-1030
**UPDATE 31 MAY 2011**
The conference room block at the Hilton Vienna is at capacity. If you are unable to reserve a room via the URL above, we have provided you with additional hotels nearby. Please note that we do NOT have any contracted room blocks at these other locations. These are suggestions.
Hilton Vienna Plaza (if you would prefer to stay at a Hilton sister property, you can still reference the FIRST room block)
Scottenring 11, 1010 Vienna (10-15 minutes by Underground with 1 change / 20 minute walk)
Map


Intercontinental Vienna
Johannesgasse 28, 1037 Vienna (10 minute walk)
Map


Radisson Blu Palais Hotel
Parkring, 14-16, 1010 Vienna (10 minute walk)
Map


Vienna Marriott Hotel
Parkring, 12A, 1010 Vienna (10 minute walk)
Map


NH Belvedere Vienna
Rennweg 12A, 1030 Vienna (20 minute walk)
Map


Mercur Grand Bidermaier Hotel
Ladnstrasser Hauptstrasse 28, 1030 Vienna (10 minute walk)
Map


Starlight Hotel Wien Am Heumarkt
Am Heumarkt 15, 1030 Vienna (10 minute walk)
Map