Do you have specific questions? Please send inquiries to
first-2013@first.org.
Direct line to conference office:
+1 312 646 1013
Direct mailing address to conference office:
FIRST Conference Office
219 W. Chicago Avenue, Suite 300
Chicago, Illinois 60654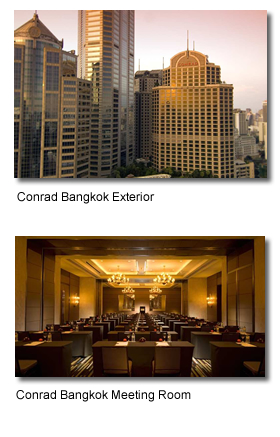 The 25th Annual FIRST Conference will be held at the Conrad Hilton Hotel, 16-21 June 2013.
Bangkok has grown from a small 15th century trading post, to a thriving international metropolis. It is the economic center and capital of Thailand, dominating the country's economy and is a key player in Asian business. Also known as the 'Venice of the East' , Bangkok is truly an extraordinary location to hold the 25th Annual FIRST Conference.
A block of rooms at the Conrad Bangkok is being held for conference attendees at a discount rate:
Deluxe Room THB 4,500 (THB 5,000 double)
Deluxe Corner THB 5,200 (THB 5,700 double)
Executive Room THB 6,000 (THB 6,500 double)
Breakfast is included in the room rate. The above rates are quoted per room, per night and exclusive of tax and service fees.
Pre and post nights can be reserved at the group rate based on availability. To receive the discount rate, you must make your reservation prior to 1 June 2013. Reservation requests received after 1 June 2013 will be accepted on a space and rate availability basis.
Physical Address:
Conrad Bangkok
87 Wireless Road, Phatumwan
Bangkok, 10330
Thailand
Telephone: +66 2 690 9999
**Our room block has been filled. You are welcome to contact reservations@conradbangkok.com directly for further assistance. They will assist you with booking the best possible rate. Last update 15 May 2013.**
Individuals that submitted requests up to 15 May 2013 via the submission form or email - we will be in contact with you within the next 24 hours as we have submitted your requests to the Conrad as we are trying to book your rate at the group rate.
Below is a listing of additional properties within walking distance to the Conrad Bangkok. While we do not have agreements/affiliation with these properties, these properties do offer competative rates. We will continue to add to the list over the next several days:
Holiday Inn Bangkok (roughly .8 miles / 1.3 km)
971 Ploenchit Road
Bangkok, Thailand
http://www.ihg.com/holidayinn/hotels/us/en/bangkok/bkkpc/hoteldetail?cm_mmc
Swissotel Nai Lert Park (roughly .8 miles / 1.3 km)
2 Wireless Road
Bangkok, Thailand
http://www.swissotel.com/hotels/bangkok-nai-lert-park/
Aspen Suites (roughly .6 miles / 1 km)
65/1 Sukhumvit soi 2
Bangkok, Thailand
http://www.aspenbangkok.com/