33rd Annual FIRST Conference
•
Virtual Event
WorkAdventure Scavenger Hunt & Gold Sponsor Trivia
Scavenger Hunt Time!
Explore Sponsor booths, interact with FIRSTies, and explore the virtual map to find hidden Scavenger Hunt items to complete your game card.
Redeem a completed card for a chance to win one of 125 official 33rd Annual FIRST conference swag kits that includes a conference t-shirt and stickers (see image below)! Winners will be chosen at random at the close of the conference and contacted directly by the FIRST Events Team for follow up contact information.
The game play officially kicks off on Monday, June 7 and we encourage everyone playing to attend the end of day social hour. Meet and greet with other attendees from around the globe and swing through the expo hall. Several of our sponsors have their own giveaways and raffles happening!
The Scavenger Hunt closes Wednesday, June 9 at 21:00 UTC. View the Map Here!
SWAG!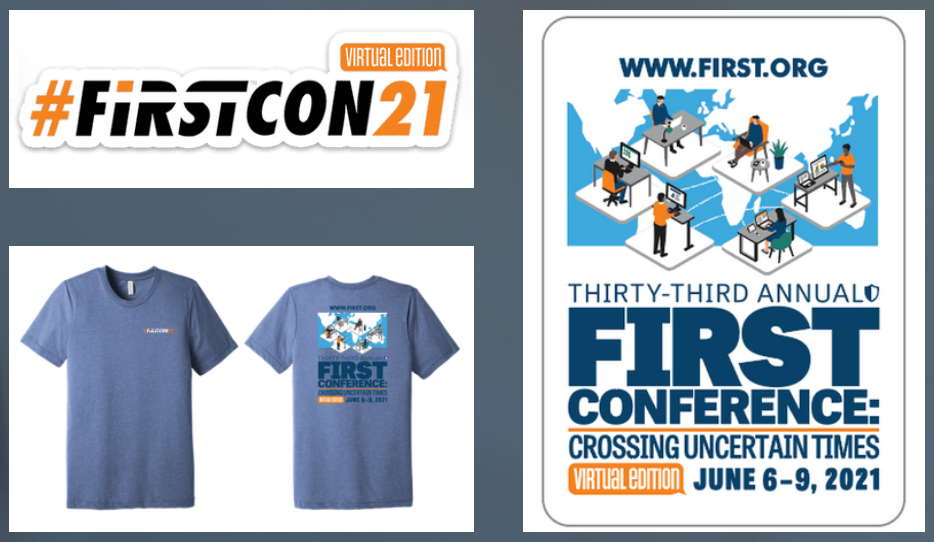 Download Your Tracking Card and Start Playing!
Download a copy of the scavenger hunt card PDF and mark it up as you play. Pay attention to the hints in the cards and remember to record each code word as they are presented to you--capitalization and all.
Once you have completed your tracking card, please submit all your answers via the submission form (Google Form) link below.
Remember, all submissions must be in by Wednesday, June 9 at 21:00 UTC.
BONUS Gold Sponsor Trivia? More Goodies?
Three additional TRIVIA QUESTIONS will be presented via WorkAdventure notification messages throughout the social hour on Monday, June 7, between 16:00 and 17:00 UTC. Details on how to submit those answers will also be provided within the WorkAdventure notification message. Three winners will be randomly selected from the submissions to win one of the following prizes!
Rapid7 - The option to choose between an Oculus Rift OR a $400 USD Amazon Gift Card
VirusTotal - $100 voucher to the Google Cloud Security Swag Store
FIRST - FIRSTCON21 Gray Unisex Hoodie + One Complimentary Registration to the 2022 FIRST Conference in Dublin, Ireland
GOOD LUCK AND HAVE FUN!