33rd Annual FIRST Conference
•
Virtual Event
SecLounge SIG: Annual Capture the Flag Competition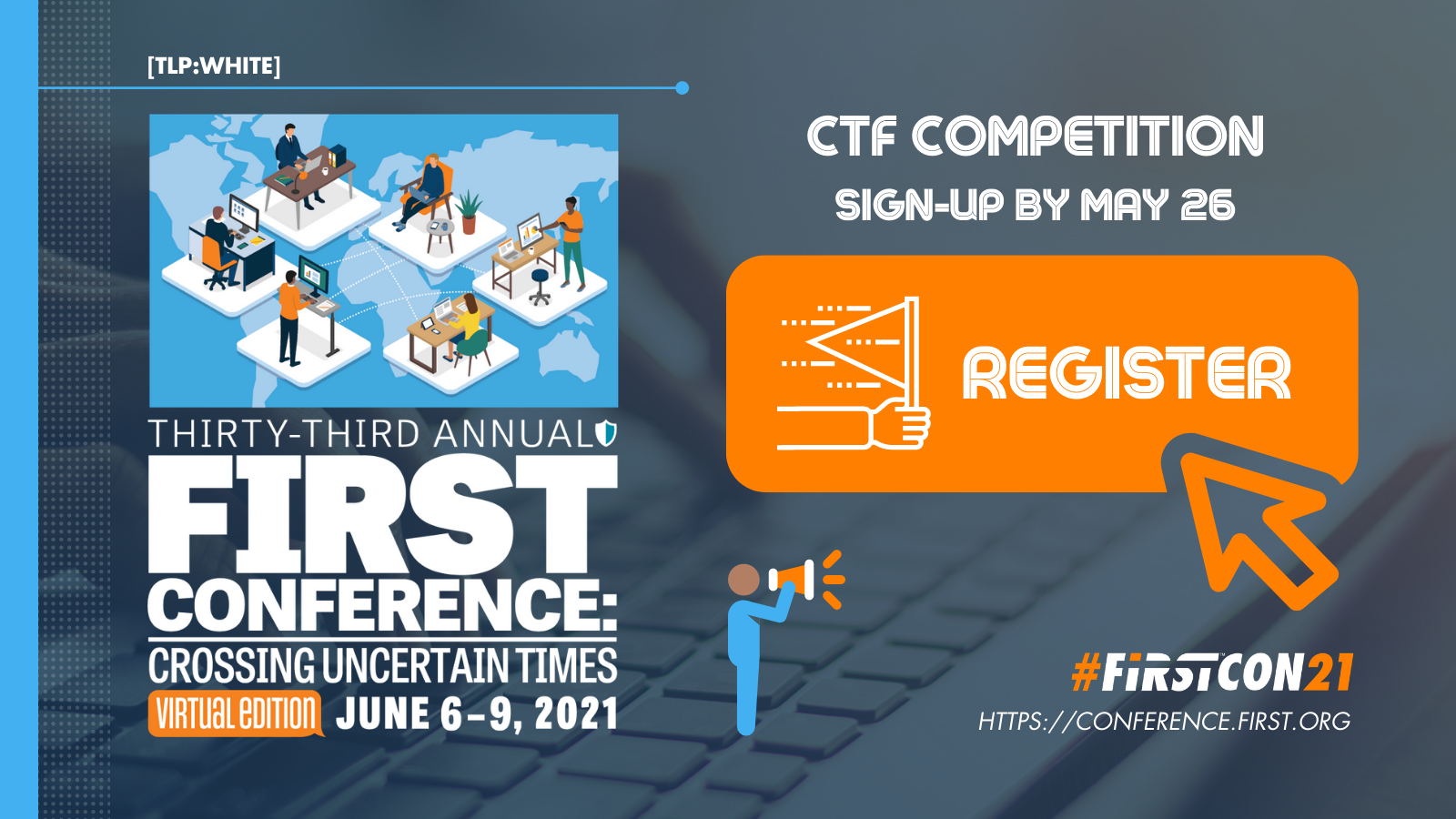 CTF Registration Has Closed
Overview
Since the 24th Annual FIRST Conference in Malta in 2012, a Capture the Flag event is organized during the week of the annual conference, currently organized by the Security Lounge ("SecLounge") SIG.
Due to COVID-19 travel limitations in 2020, the SecLounge SIG hosted the FIRST SecLounge CTF completely online. Thanks to the many efforts by the SecLounge SIG members, they were able to deliver an awesome CTF program. The 2020 edition of the CTF was open to the community at large, with more than 800 participants from around the world.
In addition to the usual challenges offered every year, we will include Industrial Control Systems (ICS) challenges from the U.S. Department of Homeland Security's (DHS) Cybersecurity & Infrastructure Security Agency (CISA).
The virtual CTF will run from Monday to Wednesday (June 7-9) of the scheduled annual conference.
How to Play
The CTF consists of a series of technical exercises (challenges) where the participants must find an answer or flag and submit it to the CTF platform.
Every flag submitted contributes to the team's score. A number of new challenges are released every day during the conference and are categorized as network, web, ICS, cryptography, reverse engineering, programming, miscellaneous, puzzle, and so on.
Do You Need a Team?
It is strongly recommended to participate as a team with a maximum of 4 members. Please start planning ahead with your peers also participating. Each team can strategize and assign challenges to members based on their expertise such that the team's combined knowledge is exploited to its fullest potential.
Will There Be Prizes?
Yes! We will be awarding three teams this year with the following:
1st Place - Intel NUCs
2nd Place - Raspberry Pis
3rd Place - Soundcore Bluetooth Waterproof Speaker
Timeline of Events
May 26: CTF Registration Closes
June 7: SecLounge Introductory Webinar
June 7-9: CTF Challenges Commence
June 11: CTF Awards Presentation and Closing Remarks Webinar
How to Register and Next Steps
All interested CTF competitors should submit their registration through the registration link below. Please ensure you select Yes to the CTF question. We will be accepting CTF registrations through May 26, 2021.
You will be contacted by the SecLounge team with next steps.
Learn more about the SecLounge SIG