2022 FIRST Cyber Threat Intelligence Symposium | #FIRSTCTI22
Berlin (DE), November 1-3, 2022
The 2022 FIRST Symposium on Cyber Threat Intelligence (CTI) will be held November 1-3, 2022 at Mercure Hotel MOA Berlin. There will be one day of training followed by two days of plenary sessions. This event will be open to both FIRST members and non-members.
Additional information will be provided over the upcoming weeks including online registration, hotel lodging options, and other program related details.
Program Overview
November 1 | Training Sessions
November 2 | Plenary Sessions
November 3 | Plenary Sessions
Registration Information
Due to the popularity of this symposium, FIRST members will be offered the opportunity to register early before opening to the general public.
Member-only Registration Period: August 3-24
General Public Registration Opens: August 25
The following registration fees will apply:
Non-member Ticket Fees: $500 US
Member Ticket Fees: $350 US
*A virtual attendance option is currently tentative and will be decided at a later date.
Attendee Lodging Options - Updated August 10
NH Collection Berlin Mitte at Checkpoint Charlie
Leipzigerstr. 106-111
10117 Berlin
FIRST has secured a block of 60 rooms at the NH Collection Berlin Mitte am Checkpoint Charlie for 159.00 Euros including Breakfast and VAT per night.
Below are the booking links for the block. Please book before 1st October 2022.
EN: https://www.nh-hotels.com/event/cyber
DE: https://www.nh-hotels.de/event/cyber
You may also book by Phone or Email. You need to mention that you are booking in the Forum of Incident Response and Security Teams, Inc. block. The Group Name is CYBER #615224. Bookings must be guaranteed with a credit card.
Phone: +49 30 2238 0233
email: reservierungen@nh-hotels.com
Attendees are welcome to make their own lodging arrangements as well; you are not required to book within a FIRST room block.
We will continue to post additional information on more hotels in the coming week. Please check back.
FIRST and the city of Berlin thank you for your patience as we work together through pandemic-related scheduling.
Meeting Venue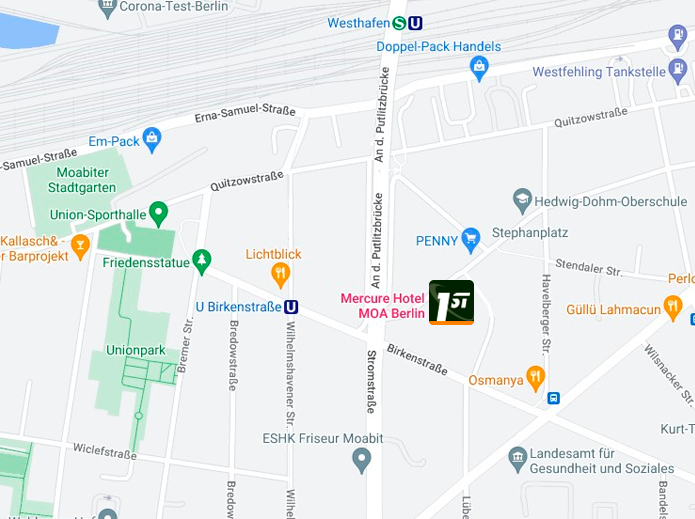 Maps provided by Google, click on the map to load it on Google Maps
All training and plenary sessions will be taking place at the Mercure MOA Hotel Berlin.
Mercure Hotel MOA Berlin
Stephanstrasse 41,
10559
Berlin, Germany
COVID Safety
FIRST is committed to hosting safe and enjoyable events and will comply with all safety protocols consistent with the German Government. Event organizers will continue to work closely with the event venue (Mercure MOA Hotel) to make certain your health, safety, and comfort are first and foremost.
As the COVID-19 pandemic remains fluid, safety guidelines and protocols will be expected to change based on the prevailing health situation. We appreciate your cooperation and collaboration as we navigate the return to in-person events.
Please keep this page bookmarked for updated information and modifications on the safety guidelines and protocols that will apply to all delegates:
If there are any major changes to the schedule, a reschedule, or if we must ultimately cancel the event--those registered to participate will be contacted and information on this page will be immediately updated.