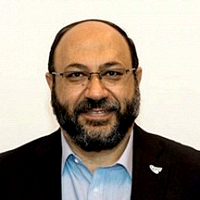 Sherif Hashem
Sherif Hashem
Dr. Sherif Hashem is a Full Professor of Information Sciences and Technology at George Mason University (GMU). His professional and research interest includes cybersecurity, artificial intelligence, cyber policies and strategies, and management of information security. He has 5 published book chapters and over 60 refereed articles in international journals and conference proceedings, with more than 2600 citations.
Sherif is currently the Chair of the Board of Directors of FIRST. He is a member of the African Union's Cybersecurity Expert Group (AUCSEG), a Senior IEEE member and an ISACA Certified Information Security Manager (CISM).
Over the last two decades, Sherif led several key cybersecurity efforts at the national level, and setting up the framework for developing the Egyptian Computer Emergency Readiness Team (EG-CERT). In 2016, he became the Chairman of the Executive Bureau of the Egypt's Supreme Cybersecurity Council. He led the team that drafted Egypt's first National Cybersecurity Strategy (2017-2021). Successful cybersecurity initiatives and activities led by Sherif have contributed to Egypt's advanced cybersecurity rank: 14th among 193 countries, as reported by the International Telecommunications Union (ITU) Global Cybersecurity Index in July 2017.
At the international level, Sherif was an expert member of the United Nations Group of Government Experts (UN GGE) on the Developments In The Field Of Information And Telecommunications In The Context Of International Security (Aug 2012 - June 2013), a 15-members high-level group of experts that developed strategic cybersecurity reports to be endorsed by the UN General Assembly. Sherif was the Chairman of the ITU's Council Working Group for Child online Protection from 2010-2017. He has been invited to give cybersecurity and ICT professional and strategic keynote speeches by numerous leading international organizations including: UN, ITU, Interpol, NATO, OSCE, OECD, African Union, the League of Arab States, as well as by the US Department of Defense and US Department of State.
Sherif received a Ph.D. in Industrial Engineering from Purdue University-USA, a M.Sc. in Engineering Mathematics and a B.Sc. in Communication & Electronic Engineering from Cairo University-Egypt. He completed the Senior Executive Program at Harvard Business School-USA. He received several awards and recognition including: the Global Bangemann Challenge Award from the King of Sweden (Stockholm – 1999).
Activities
Board of Directors (FIRST)
2022 Chair
2021

Membership Committee (FIRST)
Since 2017

Program Committee (Conference)
2020 Virtual
2019 Edinburgh
2013 Bangkok
2012 Malta