PSIRT Technical Colloquium 2018
Atlanta (US), February 27–28, 2018
FIRST Technical Colloquia & Symposia provide a discussion forum for FIRST members and invited guests to share information about vulnerabilities, incidents, tools and all other issues that affect the operation of incident response and security teams.
For you that are new in FIRST or never have attended a TC, the colloquium typically provides one whole day of plenary sessions for informal discussions and presentations on topics of FIRST membership interest, or that are more sensitive in nature and related to the day-to-day work of participants.
The FIRST colloquia are typically hosted by members and since 2005 are being organized in a regional basis — the current regions being Latin-America, North-America, Europe and Asia-Pacific. For each region the goal is to organize one TC per year — either standing on its own, or jointly with regional CSIRT initiatives.
Prioritization, Response and Communication
Honeywell is hosting a TC focused on PSIRTs in Atlanta, GA, USA on February 27 – 28, 2018 (two days). The TC is open to members and non-members alike, oriented for those are part of PSIRT or are considering forming a PSIRT.
See the open Call for Speakers for this event.
Registration is closed
Location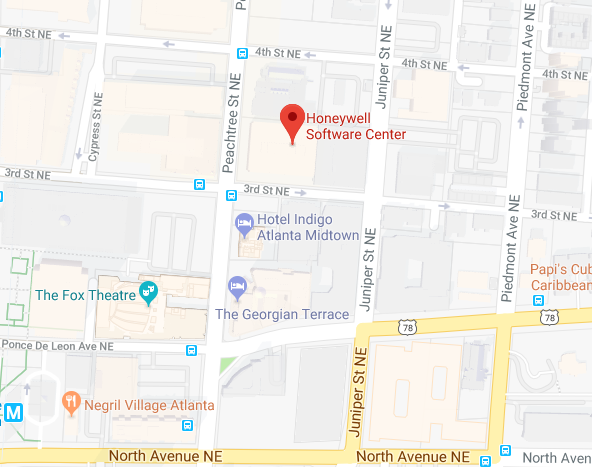 Maps provided by Google, click on the map to load it on Google Maps
All sessions of the PSIRT TC 2018 will be held at:
Honeywell
715 Peachtree St NE,
Atlanta,
GA 30308
Recommended Hotels (closest to farthest)
Hotel Indigo
683 Peachtree St NE
Atlanta, GA 30308
United States

The Georgian Terrace
659 Peachtree St NE
Atlanta, GA 30308
United States

Crowne Plaza Atlanta Midtown
590 W Peachtree St NW
Atlanta, GA 30308
United States

Staybridge Suites Atlanta Midtown
23 Linden Ave NW
Atlanta, GA 30308
United States

Hyatt Regency Atlanta
265 Peachtree St NE
Atlanta, GA 30303
United States

Marriott
265 Peachtree Center Ave NE
Atlanta, GA 30303
United States

AC Hotel (Marriott) Atlanta downtown
101 Andrew Young International Blvd NW
Atlanta, GA 30303
United States

Holiday Inn Express
111 Cone St NW
Atlanta, GA 30303
United States

Home2Home Suites (Hilton)
87 Walton St NW
Atlanta, GA 30303
United States

Hampton Inn Suites
61 Ted Turner Dr NW
Atlanta, GA 30303
United States