Travelling to Beijing
About Beijing
The Forbidden City's red walls and golden roof tiles, labyrinthine lanes running through low-slung grey brick hutong neighborhoods, futuristic skyscrapers punctuating the horizon in all directions, broad avenues and the expanse of Tian'anmen Square, traffic jams and dust storms, ancient imperial gardens, bustling markets.... Beijing holds astonishing sights and countless adventures for the curious.
Steeped in the past even as it focuses with all its might on the future, Beijing is continuously emerging and re-emerging on the global stage, cementing its place as a bona fide world power after hosting the2008 Olympic Games. Since the Olympics, vast areas of the city have been transformed as new high-rise complexes displacing old hutong warrens, yet Old Beijing holds fast in surprising ways and places.
Beijing is at its best in late spring and autumn. Autumn is a particularly pleasant time to visit as the days are warm and the leaves of the many trees in the city turn glorious shades of red and gold.
Area: 16,800 sq km (6552 sq mi)
Population: 12 million
Country: Peoples Republic of China
People: 95% Han Chinese
Main language: Mandarin (putonghua)
Time zone: GMT/UTC plus 8 hours
Telephone area code: 010
Getting to Beijing
How to get to the venue from the Beijing International Airport T3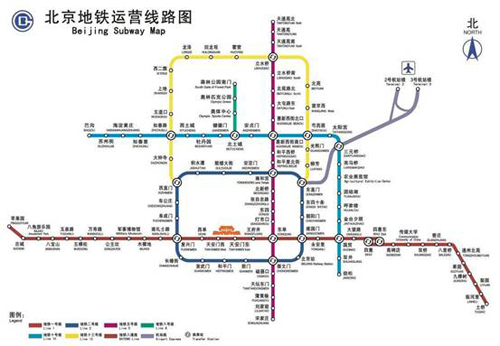 Clic here to download.
By taxi
Taxi Fee: Approximately RMB80.00
Time by taxi: Approximately 30 min
By Airport Shuttle Bus (RMB 16.00 per ticket)
Please take the Zhongguancun route, get down at Anhuiqiao station (about 30min), then take taxi to CNCC Grand Hotel (Taxi fee approximately RMB 10, about 5 min)
By Subway
Take Airport Express at T3 to Sanyuanqiao Interchange Station: RMB 25.00, about 10 min At Sanyuanqiao Station, Shift to Line 10, get down at Beitucheng Station: RMB2.00, 10 min At Beitucheng Station, Shift to Line 8, get down at Olympic Park station: No additional ticket fee, 5min
Entry requirements to Beijing
Passport or travel document
Foreign nationals who require a Visa to enter China must apply and obtain a Visa in advance at any China Representative Office abroad before entering the country. Every foreigner arriving in China must be in possession of a valid passport and visa. There are two minor exceptions to this rule:
If your home country has a mutual visa exemption with China, you are clear of visa requirements for a stay in China of less than 30 days.
For a short stay of less than 6 days, you can bypass usual visa requirements if your country has diplomatic relations with China and only if you are traveling with an organized tour group registered in SARS to Hong Kong and Macau Special Administrative Regions, when entering into the following mainland cities: Guangzhou, Shenzhen, Zhuhai, Foshan, Dongguan, Zhongshan, Jinangmen, Zhaoqing, Huizhou, etc.
Please check ChinaTravel.net for a list of Chinese Embassies by region and a thorough Q&A on the China travel visa application process.
If you need an invitation letter for visa application, please dont hesitate to contact us: