Places of Interest
The FIRST TC venue is located within about 5mins drive to the places of interest below:
Aquaria KLCC
Experience the journey of AQUARIA KLCC through an exciting discovery of the ocean and beyond! Uncover 5,000 captivating and colourful marine life of over 150 different species from Malaysia and around the world presented through a multi-sensory voyage of entertainment and education. Find amazing and exciting marine creatures in an undersea adventure that takes you beyond the mysterious deep blue sea!
Visit to www.klaquaria.com
Kuala Lumpur tower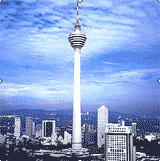 Kuala Lumpur Tower is one of the tallest concrete towers in the world, standing at 421m and built with 45,000 cubic metres of sturdy concrete. Designed with vertical ribs on the external surface, the Tower weighs 100,000 tonnes and was built on no-piling, freestanding land. Menara Kuala Lumpur opulently stands as the tallest tower in Southeast Asia.
Menara Kuala Lumpur ranks fourth amongst the tallest telecommunications towers in the world and was constructed over a period of four years and completed in May 1996. Menara Kuala Lumpur is designed to withstand wind pressures of up to 90mph. Menara Kuala Lumpur is a member of the prestigious World Federation of Great Towers.
The four tallest towers in the world are CN Tower in Canada at 553m, Ostankino Tower in Russia at 537m, Shanghai Tower in China at 468m followed by Menara Kuala Lumpur in Malaysia at 421m.
Official Portal http: www.menarakl.com.my
Kuala Lumpur city centre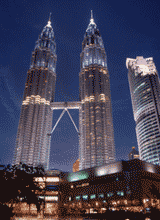 One of the great about KLCC is its accessibility. To get there by public transport is easy. Just jump on the Putra LRT, there are RapidKL bus services and every taxi driver in KL knows how to get there.
Petronas Twin Towers forms the centrepiece of the Kuala Lumpur City Centre (KLCC), an intelligent precinct that serves as the beginning of the Multimedia Super Corridor (MSC), a high tech area for companies. With a height of 1,453 feet, one of the world's tallest buildings rise above the skyline of Kuala Lumpur. The 88-storey gleaming two freestanding towers is connected by a skybridge at the 41st floor. Situated within the towers is the Petronas Philharmonic Hall, the Petronas Art Gallery and Petrosains, an interactive science exhibition centre.
For visitor wanting to view the skyline of the city, the skybridge is open on Tuesday and Sundays.
More information on KLCC at: www.klcc.com.my
National craft complex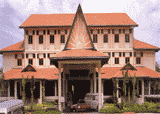 National Craft Complex is located at Jalan Conlay. The place where you can get handicrafts with lower price compare with other place at this country. Even you can participate to make it.
The popular items you can obtain here are traditional arts and crafts to sculptures, wood carvings, batik paintings and even pottery.
Visit here for more information: www.kraftangan.gov.my