Side events
Malaysian events to watch out for in august 2007
Malaysias 50th Independence Events & Celebrations
50 Years of Nationhood - World Lion Dance Invitation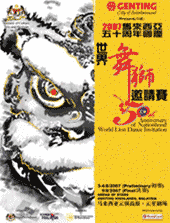 3rd August 2007 until 5th August 2007 Genting Highlands
Enjoy spectacular performances by the best lion dance troupes invited from all over the world, held especially in conjunction with Malaysia's 50th Anniversary and for the Visit Malaysia Year 2007 campaign. The event will be taking place at the Arena of Stars, Genting Highlands from 3rd August 2007 until 5th August 2007
More information at:
www.genting.com.my/en/live_ent/2007/wliondance/default.htm
KL Tower International BASE Jump Merdeka Circuit 2007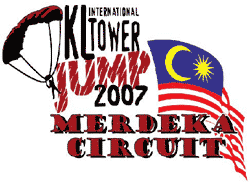 24th, 25th and 26th August 2007 KL Tower
Menara Kuala Lumpur is pleased to announce KL Tower International BASE Jump Merdeka Circuit 2007. The event will take place in August in the led up the Malaysias 50th Anniversary of Independence or Merdeka. The annual event this year will take place at 5 different buildings that are among the tallest structures in the states of Sarawak, Sabah, Alor Setar, Penang and the Federal Territory of Kuala Lumpur. Kuala Lumpur jump will commence on the following location and dates:
Menara Kuala Lumpur (KL Tower)
JLocation: Federal Territory of Kuala Lumpur
Jump Height: 980 feet
Jump Dates: 24th, 25th and 26th August - 3 days of jumping
For more information, visit: www.kltowerjump.com/main.html
21st Mount Kinabalu International Climbathon 2007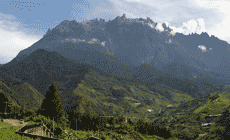 25th August 2007 until 26th August 2007 Sabah
Announced as 'The World's Toughest Mountain Race', this is a race where participants ascend and descend the majestic Mount Kinabalu (4095.2m). The total distance is 21km for all categories. The average climber takes two days to climb the mountain but participants of the race can make it in less than three hours. The race determines the ultimate champion of the 7-series Federation for Sport at Altitude's (FSA) Skyrunning World Championship (racing on high altitude).
For more information, go to www.sabahtourism.com
2007 Malaysia Mega Sale Carnival
16th June 2007 until 2nd September 2007 throughout Malaysia
Starting on the 16th June till 2nd September 2007, shoppers can indulge in great bargains, promotions, activities and contests that guarantee everyone be it local or tourist a grand shopping fiesta to satisfy even the most seasoned of shoppers. An endless line of products ranging from haute couture, fashion accessories, jewellery and cosmetics to electrical and hi-tech equipment, handicrafts and unique curios are available at attractive prices. The Malaysia Mega Sale Carnival is organised by Ministry of Tourism, Tourism Malaysia and the Shopping Malaysia Secretariat.
For more information, go to www.mymegasale.com
Eye on Malaysia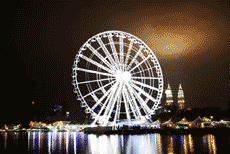 7th January 2007 until 31st December 2007 Titiwangsa Lake Gardens, Kuala Lumpur
See Kuala Lumpur as never before! Experience a breathtaking 360 degree panoramic view of Kuala Lumpur city! This unforgettable 12-minute ride reaches a height of 60 metres and offers a magnificent view of over 20km of the city.
As Malaysia celebrates its 50th year of nationhood, we are proud to welcome the world to join the jubilee! An integral part of the Visit Malaysia Year 2007 celebrations, Eye on Malaysia brings a new perspective to the dynamic city of Kuala Lumpur.
For more information, visit: www.eyeonmalaysia.com.my
Malaysia International Fireworks Competition In August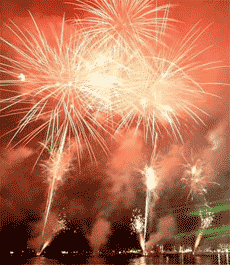 18th August 2007 until 2nd September 2007 - Putrajaya
Malaysia will host the biggest International Musical Fireworks Competition in the world from Aug 18 to Sept 2, 2007 in conjunction with the country's 50th national day celebration. Watch the sky being lit up with impressive firework displays! The competition will feature various countries vying to create brilliant displays. Each country will present unique and spectacular firework formations. Splendid splashes of flaming red, bright orange and other vivid colors transform the sky into a grand theatre of pyrotechnics.
For more details on the event, please visit: www.mifc.com.my or www.globalcomm.com.my
50 Years of Nationhood - Merdeka Month Celebration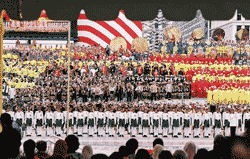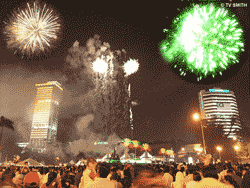 31st August 2007 throughout Malaysia
On August 31, 2007, the nation will commemorate the 50th year of Independence or 'Merdeka'. This historic event is celebrated in a joyous mood by Malaysians from all walks of life. A host of activities is held in each state including parades, exhibitions of Malaysia's history and fireworks displays, culminating in a grand parade attended by Their Majesties; The King and Queen of Malaysia, Prime Minister, dignitaries and the public. A free open-air concert is held on the eve of Merdeka. Among the programs line up are as follow:
Launch Ceremony of Merdeka Celebration and Fly the Jalur Gemilang Campaign
Date : 17 August 2007
Venue : Dataran Pahlawan, Bandar Hilir, Melaka

Ambang Merdeka Celebration
Date : 30 August 2007
Venue : In front of Sultan Abdul Samad Building, Merdeka Square, Kuala Lumpur

Merdeka Day Parade
Date : 31 August 2007
Venue : Merdeka Square, Kuala Lumpur

Tea Party
Date : 31 August 2007
Venue : Istana Negara, Kuala Lumpur

Merdeka Celebration
Date : 31 August 2007
Venue : Merdeka Stadium, Kuala Lumpur

Religious Programs
Date : 29 August 2007
Venue : National Mosque, Kuala Lumpur

Closing Ceremony of the Merdeka Celebration
Date : 10 September 2007
Venue : Kuching, Sarawak,
Venue: Putrajaya and throughout Malaysia
For more event information, please visit Tourism Malaysia website at: www.tourism.gov.my or http://malaysia.travel/consumer/events/default.asp
Malaysia's independence
31 august 2007
Malaysia's history starts generally around the establishment of the Malacca sultanate. During the 13th century, it was renowned as a major port for traders from both east and west. Malacca was chosen as a trading center, based mainly on its advantageous location (sheltered from strong monsoon winds) and its abundant spices and other precious goods that had attracted especially Indians, Arabian and Chinese traders. The port was able to operate year-round which flourished as the world's new major maritime trade point.
Malacca's profitable position was envied by many and resulted in the Portuguese invasion in 1511. Later, in 1641, the Dutch defeated the Portuguese and reigned until 1815 when the British Empire took over. In 1826, the British ruled and consolidated Penang, Singapore and Malacca under one administration unit called the Colony of the Straits Settlement. After World War II, there was a resurgence of Malayan nationalism leading to the Declaration of Independence for the Federation of Malaya from the British Empire on August 31, 1957.