Hotel Information
Hotel Information: Crowne Plaza Mutiara
The Crowne Plaza Mutiara is located in the golden triange of Kuala Lumpur. The 36 storey Mutiara Kuala Lumpur, a prominent landmark is situated on a beautifully landscaped 5-hectare hillock, offering a panoramic view of Kuala Lumpur City. Strategically located in the banking and commercial district of Kuala Lumpur and within walking distance of the main shopping and entertainment areas, Mutiara Kuala Lumpur offers guests the excellent shopping, entertainment and recreational pursuits Kuala Lumpur is renowned for.
MyCERT has reserved several rooms for the event. The online booking facility URL is available for FIRST Members at the members' view of this page. We would appreciate if participants could confirm early travel arrangements to secure accommodation at the online booking form.
Internet access is widely available.
Crowne Plaza Mutiara Kuala Lumpur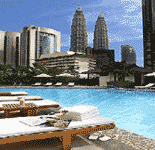 Jalan Sultan Ismail
P.O. Box 10577, 50718
Kuala Lumpur, Malaysia
Website:

Phone:

+60 3 2148 2322

Fax:

+60 3 2144 2157