Travel Information
Location
Currency
Euro
Language
Spanish
Website
www.leon.es
Incibe
Avenida José Aguado, 41
24005 León
Spain
Reaching León
Flights
In order to organize your flight from your country, you may contact Halcón Viajes.
Depending on the number of people interested, it could be offered a group discount.
Halcón Viajes
+34 987 249 500
Vanesa Castellanos
vanesacastellanos@halcon-viajes.es
www.halconviajes.com
Making your way from Airport to the city
When you arrive to Spain, Madrid or Barcelona, you will find several options of transport until León.
In any of these cities you will need to get from the airport to the point of departure of the transport selected.
We provide you with useful information about public transport:
Next, you will find more information about different kinds of transport you can choose to reach León.
Taxi
Radio Taxi Madrid
(+34) 915 478 200
Radio taxi Barcelona
(+34) 622 222 044
Train
If you select to travel by train (RENFE), You´ll have a discount for attending the event, on the ticket price (30%).
Please don't forget to bring the printed voucher (you can download it from the web site https://cybercamp.es/summerbootcamp).
It will be shown along with your ticket both at check in the point and to the controller. It is mandatory take during the complete tour.
From the airport (Madrid-Barajas and El Prat-Barcelona) to train station (Chamartin in Madrid and Barcelona Sants) you can move to the departure train station, by subway, taxi or local train.
RENFE
+34 902 320 320
www.renfe.com
Estación Renfe Madrid Chamartín
C/ Agustín de Foxa S/N
28036 Madrid
Estación Renfe Barcelona Sants
Carrer del Rector Triadó, 75
08014 Barcelona
Bus
You can also take the bus from Madrid or Barcelona to reach León.
In website www.alsa.es you will find timetables and paths bus.
You can buy the ticket in person or online.
From the airport of either cities, Madrid or Barcelona, you can move to the bus station, by subway, taxi o local train.
Alsa
Av Ingeniero Sáenz de Miera, s/n, 24009 León
(+34) 902 422 242
www.alsa.es
Estación Sur de autobuses Madrid
Calle de Méndez Álvaro, 83
28045 Madrid
Estación de autobuses Barcelona Nord
Carrer d'Alí Bei, 80
08013 Barcelona
Rent a car
You can also rent a car.
You can find different car rental companies1.
Train Station
C/ Astorga S/N - 24009 - León
1 These are some of car rental companies operating in Spain and have gathered in Madrid Barajas Airport and option to leave the car at the train station of the city of Leon. You can find more other features: http://www.rentalcars.com/es/city/es/leon/
EuropCar
+34 987 230 251
www.europcar.es
Avis
+34 987 270 075
www.avis.es
Pepe Car
+34 902 696 666
www.pepecar.com
Useful telephone numbers
Emergency
112
Local Police
092 – 987 255500
National Police (Provincial Brigade of alien affairs)
091 - 987 218911
Spanish military police
062 – 987 250175
Civil Protection
987 222252
Red Cross
987 222222
Relevant Information
Electricity supply in Spain
Electricity supply in Spain is 230 V, frequency is 50 Hz. Spain uses two types of plugs: type F (two pins), you must be careful connecting devices to the grid.
You can get adaptor sets both in hardware stores and electrical shops, as shopping centers.
The need for an adaptor depends of voltage, frequency and plug types of your origin country.
Types of plugs in Spain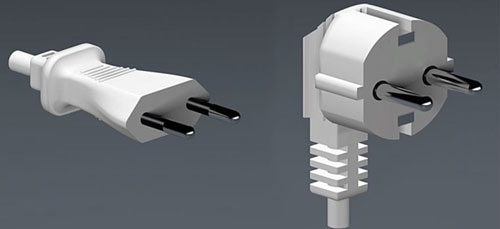 Healthcare centers
Complejo Hospitalario de León
C/ Altos de Nava S/N, 24008 León
987 23 74 00
Centro de salud la Palomera
Av. San Juan de Sahagún, 0, 24007
987235814
Centro de Salud José Aguado
Avda José Aguado, S/N, 24005 León
987 21 33 44
Centro de Salud Condesa
Paseo Condesa Sagasta, 26, 24001 León
987 23 33 00
Tourism
Leon is a city whose attractions captivate every year thousands of people from all over Spain and abroad.
Has an interesting historical center, where the visitors can contemplate buildings such as the Cathedral of León, the Collegiate Church of San Isidoro, the Palacio de los Guzmanes, Casa de Botines, Palacio del Conde Luna or the remains of the Roman Walls and medieval surrounding the old city.
www.visitaleon.com/lugares-interes-leon
Information
Monday to Sunday
From 9:30 to 14:00 and from 16:00 to 19:00 hours
www.leon.es
+34 987 237 082
oficinadeturismodeleon@jcyl.es
Plaza de Regla, 2 - 24003 León